Addressing gender disparities in education and employment: A necessary step for achieving sustainable development in the Caribbean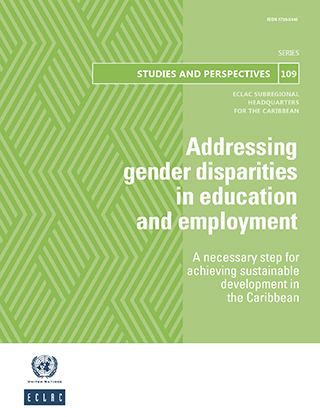 Date
2022-09-21
Author
Abstract
Considering the vital importance of gender equality to development and the specific promise of the 2030 Agenda for Sustainable Development to leave no one behind, girls and boys should be provided with equal opportunities to achieve their fullest potential as promoted in specific Sustainable Development Goals (SDGs) and related targets. Noting that the 2020–2029 decade has been termed the "Decade of Action" for sustainable development, there is the need for the Caribbean to urgently address its human capital development challenge even as the subregion deals with many economic, social, and environmental challenges facing it as small island developing States (SIDS). In this study, we examine data on school enrolment and academic performance to discern any gender disparity in access to education and academic performance of students.
Abstract
Abstract .-- Introduction .-- I. Background. A. The 2030 Agenda for Sustainable Development. B. The Montevideo Strategy for Implementation of the Regional Gender Agenda .-- II. Understanding gender disparity in education and employment .-- III. Methodology .-- IV. Gender disparity in school enrolment .-- V. Gender disparity in educational attainment .-- VI. Conclusion. within the Sustainable Development Framework by 2030
Serie
Studies and Perspectives Series – The Caribbean
No.
109
en