Addressing the growing impact of COVID-19 with a view to reactivation with equality: New projections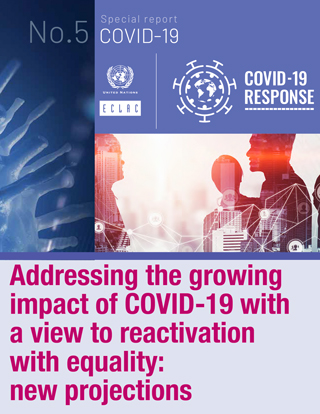 Date
2020-07-15
Author
Abstract
This Special Report is the fifth in a series by the Economic Commission for Latin America and the Caribbean (ECLAC) on the evolution and impacts of the COVID-19 pandemic in Latin America and the Caribbean. The key messages are: Economic activity in the world is falling by more than what was foreseen several months ago as a result of the crisis stemming from the coronavirus disease (COVID-19), and this increases negative external effects on Latin America and the Caribbean through trade channels, the terms of trade, tourism and remittances. In addition, the region is currently at the epicenter of the pandemic, and while some governments have begun to lift measures to contain its spread, others have had to keep them in place or even redouble them due to the persistent daily uptick in cases. Since both external and domestic shocks have intensified, the region will experience a -9.1% fall in Gross Domestic Product (GDP) in 2020. It is expected that the regional unemployment rate will be around 13.5% by the end of 2020, which represents an upward revision (2 percentage points) of the estimate presented in April and a 5.4 percentage point increase versus the 2019 figure (8.1%). ECLAC forecasts that the number of people living in poverty will rise by 45.4 million in 2020, which means that the total number of people in that situation will go from 185.5 million in 2019 to 230.9 million people in 2020 – a figure that represents 37.3% of Latin America's population. Countries in the region have announced major packages of fiscal measures to confront the health emergency and mitigate its social and economic effects. National efforts must be supported by international cooperation to expand policy space through increased financing under favorable conditions and debt relief. Likewise, making progress on equality is crucial for effectively controlling the pandemic and for a sustainable economic recovery in Latin America and the Caribbean.
Abstract
A. A synchronized global crisis .-- B. Decoupling financial dynamics from the drop in activity .-- C. New projections of growth, unemployment, poverty and inequality .-- D. Fiscal and monetary policies to address the crisis .-- E. Four lines of action: 1. An emergency basic income as a tool for social protection. 2. An anti-hunger grant. 3. Support for businesses and jobs at risk. 4. Strengthening the role of international financial institutions.
Serie
Informe Especial COVID-19
No.
5
Collections
en