Status of implementation in South America of the Vienna Programme of Action for Landlocked Developing Countries for the Decade 2014-2024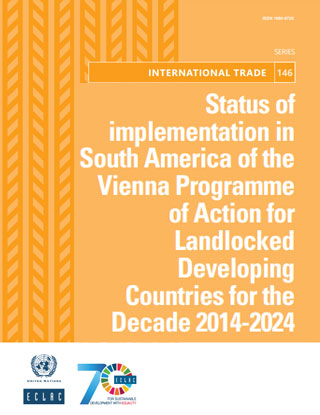 Date
2019-11-30
Author
Abstract
This report was prepared by the Economic Commission for Latin America and the Caribbean (ECLAC) and the Office for the High Representative for Least Developed Countries, Landlocked Developing Countries and the Small Island Developing States (UN-OHRLLS) in preparation for the midterm review meeting of the Vienna Programme of Action (VPoA) for Landlocked Developing Countries for the Decade 2014-2024 in the Latin American and Caribbean region. The report is structured as follows: the first section assesses the alignment between the objectives and priorities set forward in the 2030 Agenda for Sustainable Development, the VPoA, and the National Development Plans of the Plurinational States of Bolivia and Paraguay; the second section analyzes connectivity and transport infrastructure in landlocked developing countries in Latin America; the third section reviews and analyzes the status of implementation of the VPoA in these countries; and the fourth and final section outlines conclusions and formulates recommendations to accelerate the implementation of the VPoA in the Latin American region.
Abstract
Executive summary .-- Forewoed .-- I. Guiding frameworks and principles to achieve sustainable development in landlocked countries .-- II. The status of implementation of the Vienna Programme of Action in Bolivia (Plurinational State of) and Paraguay .-- III. Emerging challenges: climate change and innovation .-- IV. Conclusions and recommendations: the way forward.
Serie
Serie Comercio Internacional
No.
146
Collections
en