Status of Implementation of the Almaty Programme of Action in South America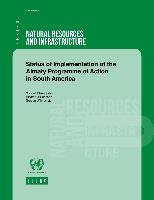 Date
2014-09
Abstract
The lack of access to the sea is frequently cited as a reason that helps to explain the low growth rate and underdevelopment of landlocked countries. Nevertheless, development is clearly a multidimensional process and therefore cannot be contingent solely upon geographical conditions. Composite indicators based on information linked to the Millennium Development Goals (MDGs) show that on average the development of landlocked countries is 20 per cent below what it would be if they were not landlocked (United Nations Office of the High Representative for the Least Developed Countries, Landlocked Developing Countries and the Small Island Developing States (UN-OHRLLS), 2013). In this context, this document analyses the various prospects for development, as well as the priorities of the Almaty Programme of Action for Latin America, and concludes with a set of recommendations to improve cooperation in the area of transport among landlocked and transit developing countries. The Almaty Programme of Action includes five priorities: i) Fundamental transit policy issues; ii) Infrastructure development and maintenance; iii) International trade and trade facilitation; iv) International support measures; and v) Implementation and review.
Abstract
Background .-- Introduction .-- I. Approach to the socioeconomic development of the Plurinational State of Bolivia and Paraguay .-- II. An evaluation of the transport infrastructure and infrastructure services .-- III. International trade and facilitation .-- IV. International support measures and emerging issues .-- V. Logistics performance and transport costs in Latin American landlocked countries .-- VI. Recommendations.
Serie
Serie Recursos Naturales e Infraestructura
No.
167
Collections
en