Compacts for Equality: Towards a Sustainable Future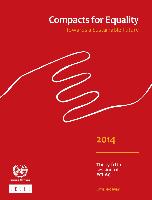 Enlace al sitio web del Período de Sesiones de la CEPAL.
Date
2014-04
Author
Abstract
The document which ECLAC presents on this occasion explores further the theme of equality addressed at the two previous sessions of the Commission, in Time for Equality: Closing Gaps, Opening Trails (2010, Brasilia), and Structural Change for Equality: An Integrated Approach to Development (2012, San Salvador). The document prepared for the thirty-fifth session, entitled Compacts for Equality: Towards a Sustainable Future, discusses the two major challenges to development in Latin America and the Caribbean today: to achieve greater equality and to make development sustainable for future generations. The various chapters examine the social, economic, environmental and natural resource governance constraints on sustainability, as well as the challenges associated with strategic development options. They also further explore the equality approach developed by ECLAC at previous sessions, treating the world of work as a key arena. Consumption is analysed as it relates to the economic, social and environmental spheres, highlighting its potential to increase well-being as well as its problematic externalities in terms of environmental sustainability, the fiscal covenant and the production structure, among others. The dynamics existing between production structures and institutions are explored, drawing attention to ways in which the efficient organization of institutions can help to maximize contributions to development. The document concludes with a set of medium- and long-term policy proposals that need to be enshrined in social covenants and policy instruments for implementing, in a democratic context, the policies and institutional reforms that the Latin American and Caribbean countries need to resolve the dilemmas they face at the current crossroads.
Abstract
Foreword .-- Executive Summary .-- Part 1: The regional scenario .-- Chapter 1: Equality and sustainability at the current development crossroads in Latin America and the Caribbean .-- Part 2: Social and labour gaps .-- Introduction: Rethinking equality .-- Chapter 2: Equality and inequality in Latin America and the Caribbean .-- Chapter 3: The world of work: The master key for equality .-- part 3: Consumption patterns, the environment and natural resources .-- Introduction: Intersecting approaches to development sustainability .-- Chapter 4: Equality, sustainability and well-being in the sphere of consumption .-- Chapter 5: Development style and environmental sustainability: An unsolved equation .-- Chapter 6: Natural resource governance for structural change with equality .-- Part 4: Closing considerations .-- Chapter 7: Politics, policy and the importance of compacts.
en