Aportes a la medición de niveles de productividad desde una perspectiva comparada Metodología industry of origin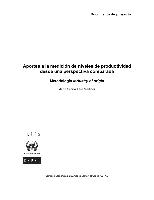 Date
2014-03
Author
Abstract
A la hora de comparar niveles de productividad entre países se requiere hallar una conversión adecuada para expresar los valores en una misma moneda. Este trabajo ofrece la aplicación de una metodología denominada industry of origin a través de la cual se pueden obtener factores de conversión que superan los problemas de usar tipo de cambio o paridades de poderes de compra. Dichos factores de conversión se basan en información de censos económicos de los países involucrados, y con la cual se estiman ratios de precios productor. La potencialidad del enfoque industry of origin se halla en su análisis a nivel sectorial de forma comparada de la productividad, por lo tanto, el mismo podría ser un insumo atractivo para los estudios vinculados al cambio estructural. Esta metodología fue aplicada en este caso para el sector manufacturero de Uruguay y Estados Unidos en el año 1988.
Abstract
Introducción .-- I. Antecedentes .-- II. Metodología y estrategia empírica .-- III. Alcance de la metodología .-- IV. Conclusiones.
Serie
Documentos de Proyectos
No.
594
Collections
en