Topics
ECLAC

United Nations

Country / Region
Related Publications by Work Areas
Altmetrics
Author(s):

Date Issued:

1981-08

p. 55-105

Published in:
Show full data
Physical description:

p. 55-105

Physical location:

INT CELADE/SO 5(26/81)

Type of document:

Bibliographic level:

Sección o Parte de un Documento

Notes:

Parte II ingresada en Biblioteca (69605)

Incluye Bibliografía
Downloadable Files
This item appears in the following Collection(s)
Related items
Showing items related by title, author, creator and subject.
Corporate Author(s):

Serie:

   No.

56

Date Issued

2007-08

Physical Description

151 p. : gráfs., tabls., mapas

UN symbol:
ResumenEste documento, preparado por el CELADE-División de Población de la CEPAL, apunta a presentar un conjunto de opciones para la explotación del último censo de población y vivienda en Nicaragua (2005). Su objetivo específico es ofrecer a los actores de la sociedad nicaragüense una propuesta op...
Corporate Author(s):

BID |

Serie:

   No.

16

Date Issued

2005-04

Physical Description

104 p. : gráfs., tabls.

UN symbol:
A lo largo de la década del 90, los indígenas han logrado conquistas importantes en el ámbito de sus derechos colectivos. Si bien a raíz de la nueva constitución de 1998 no consiguieron el reconocimiento del Estado ecuatoriano como plurinacional, obtuvieron una victoria política a través del respet...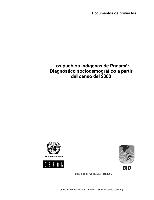 Corporate Author(s):

BID |

Serie:

   No.

20

Date Issued

2005-06

Physical Description

138 p. : gráfs., tabls.

UN symbol:
En un largo y lento proceso, los derechos indígenas se han ido contemplando en la Carta Magna de la República, así como en leyes, decretos, acuerdos, reglamentos, y otros. Los logros alcanzados son respuestas al movimiento incesante, persistente y organizacional de los indígenas por la reivindicaci...
Search Repository
Browse
My Account