Country / Region
Now showing items 1-1 of 1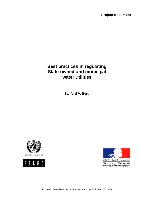 Author(s):

Serie:

   No.

542

Date Issued

2013-04-05

Physical Description

65 p. : gráfs., tabls.

UN symbol:
The fundamental lesson that emerges from this survey of regulating state-owned and municipal water utilities in developing countries is that sector regulation has to be embedded in an adequate and consistent institutional framework in order to have a positive impact on performance. Sector regulatio...
Now showing items 1-1 of 1