Authors "Abbott, Frederick M."
Now showing items 1-1 of 1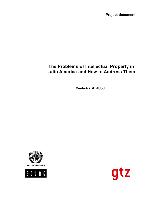 Author(s):

Corporate Author(s):

Serie:

   No.

164

Date Issued

2007-12

Physical Description

26 p.

UN symbol:
Defining appropriate Intellectual Property (IP) policy is a key industrial and social policy matter for Latin American governments. The IP interests of countries in Latin America may differ substantially from comparable interests in the United States, Europe and Asia, and IP interests among Latin A...
Now showing items 1-1 of 1
Search Repository
Browse
My Account